Three original Rife Machines have been found. Find out how they really worked by reading:
The Rife Machine Report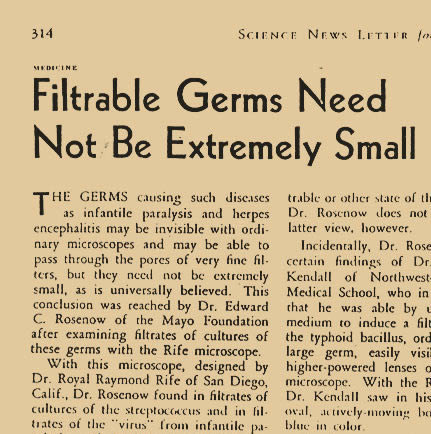 Science News Letter,
November 12, 1932
Filtrable Germs Need Not be Extremely Small

Filtrable Germs Need Not
Be Extremely Small

Science News Letter
November 12, 1932

The germs causing such diseases as infantile paralysis and herpes encephalitis may be visible with ordinary microscopes and may be able to pass through the pores of very fine filters, but they need not be extremely small, as is universally believed. This conclusion was reached by Dr. Edward C. Rosenow of the Mayo Foundation after examining filtrates of cultures of these germs with the Rife microscope.

With this microscope, designed by Dr. Royal Raymond Rife of San Diego, Calif., Dr. Rosenow found in filtrates of cultures of the Streptococcus and in filtrates of the "virus" from infantile paralysis, and in filtrates of herpes encephalitis "virus" cocci and diplococci which he had not been able to detect by ordinary means.

Dr. Rosenow suggested in a report to Science, that the filterable, disease-causing agent of infantile paralysis may be the familiar Streptococcus in a stage in which it cannot be stained to make it visible, and it is highly plastic and semi-transparent. Or it may be that these unstained, invisible forms not revealed by ordinary examination are the viruses which cause disease, but merely a filterable or other state of Streptococcus. Dr. Rosenow does not incline to the latter view, however.

Incidentally, Dr. Rosenow confirm certain findings of Dr. Arthur Isaac Kendall of Northwestern University Medical School, who in 1931 reported that he was able by using a special medium to induce a filterable phase of the typhoid bacillus, ordinarily a fairly large germ, easily visible under the higher-powered lenses of a compound microscope. With the Rife microscope Dr. Kendall saw in his filtrate small, oval, actively-moving bodies, turquoise blue in color.

Dr. Rosenow, working in Dr. Kendall's laboratory at Chicago, was able to see these same turquoise blue bodies. The reason that they are not visible by ordinary methods of illumination and magnification is not that they are too small but are of peculiar translucent, non-staining structure, he stated.

"Their visualization under the Rife microscope is due to the ingenius methods employed rather than to exclusively high magnification," is Dr. Rosenow's opinion.