Three original Rife Machines have been found. Find out how they really worked by reading:
The Rife Machine Report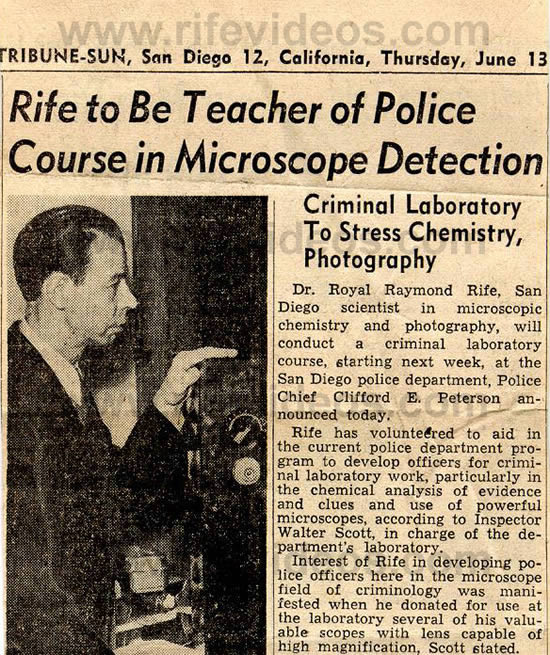 The Tribune-Sun
June 13, 1946
Rife To Be Teacher Of Police Course In Microscope Detection
Rife To Be Teacher Of Police
Course In Microscope Detection
The Tribune-Sun
June 13, 1946


Dr. Royal Raymond Rife, San Diego scientist in microscopic chemistry and photography, will conduct a criminal laboratory course, starting next week, at the San Diego police department, Police Chief Clifford E. Peterson announced today.

Rife has volunteered to aid in the current police department program to develop officers for criminal laboratory work, particularly in the chemical analysis of evidence and clues and use of powerful microscopes, according to Inspector Walter Scott, in charge of the department's laboratory.

Interest of Rife in developing police officers here in the microscope field of criminology was manifested when he donated for use at the laboratory several of his valuable scopes with lens capable of high magnification, Scott stated.

A limited class for men with backgrounds of chemistry, photography and physics will be conducted by the scientist for an indefinite period it was said. The class was announced yesterday in a bulletin issued throughout the department by the chief, and will be a part of theregular police training program.

Rife, who resides at 3676 Zola st., has been honored by leading American universities for his research and development of world-famous microscopes.