Three original Rife Machines have been found. Find out how they really worked by reading:
The Rife Machine Report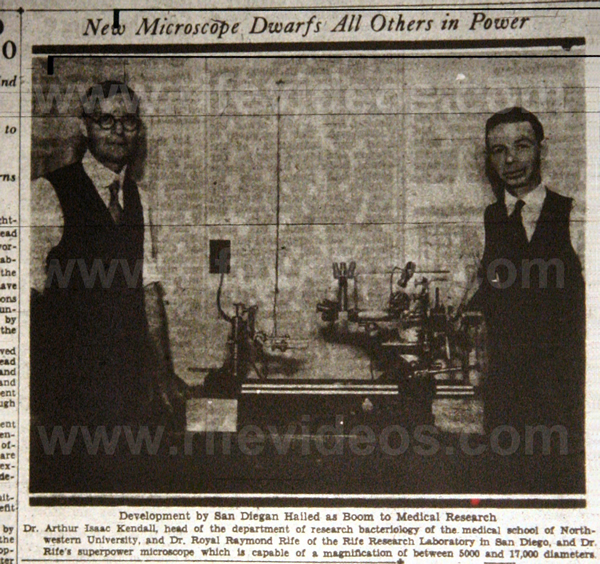 Los Angeles Times,
November 22, 1931
Science's Latest Strides In War On Ills Disclosed
SCIENCE'S LATEST STRIDES IN WAR ON ILLS DISCLOSED
Los Angeles Times, November 22, 1931
Scientific discoveries the greatest magnitude, including a discussion of the world's most powerful microscope recently perfected after fourteen years effort by Dr. Royal Raymond Rife of San Diego, were described Friday evening to members of the medical profession, bacteriologist and pathologists at a dinner given by Dr. Milbank Johnson in honor of Dr. Rife and Dr. Arthur I. Kendall, head of the department of research bacteriology of the medical school of Northwestern, University, Chicago.

Complete descriptions of recent discoveries previously have been lacking, due to the consistent refusal of Dr. Rife and Dr. Kendall to be interviewed by the press regarding their remarkable experiments. They also reiterated that future interviews will be denied.

Before the gathering of distinguished men, Dr. Kendall told of his researches in cultivating the typhoid Bacillus on his new "Medium K." The typhoid Bacillus ordinarily is non-filterable and is large enough to be seen easily with microscopes in general use. Through the use of "Medium K." Dr. Kendall said, the organism is so altered that it cannot be seen with ordinary microscopes and it becomes small enough to be ultra-microscopic or filterable. It then can be changed back to the microscopic or not filterable form.

Through the use of Dr. Rife's powerful microscope, said to have a visual magnifying power of 17,000 diameters, compared with 2000 diameters of which the ordinary microscope is capable. Dr. Kendall said he could see the typhoid Bacillus in the filterable or formally invisible stage. It is probably the first time the minute filterable organisms ever have been seen.
There are a number of contagious diseases believed to be caused by filterable microbes which have not yet been cultivated or seen under the microscope, Dr. Kendall said. Some of these diseases are smallpox, infantile paralysis, measles and others. These diseases have been experimentally produced in animals with the infected material, but the microbes themselves have been invisible

Dr. Kendall hopes that this discovery will open the door to the discovery and study of these filterable or invisible viruses. If such experiments are successful, scientists agree Dr. Kendall will have made an epoch-making contribution to medicine.

Scope of Microscope

Dr. Rife, who has been working alone in San Diego for more than fourteen years, told of his development of the superpowerful microscope and demonstrated it to the guests. The strongest microscopes now in use magnify between 2001 the 2500 times. Dr. Rife, by and ingenious rearrangement of lenses, applying an entirely new optical principle and by introducing double quartz prisms and powerful illuminating lights, has devised a microscope with a lowest magnification of 5000 diameters and a maximum working magnification of 17,000 diameters.

The new microscope, scientists predict, also will prove a development of the first magnitude. Frankly dubious about the perfection of microscope which appears to transcend the limits set by optical science, Dr. Johnson's guests express themselves as delighted with the visual demonstration and heartily accorded to Dr. Rife and Dr. Kendall a foremost place in the world's rank of scientists.

Those Attending

Those who attended the dinner were Dr. S. Fosdick Jones, Dr. C. M. Hyland, Dr. V. L. Andrews, Dr. Alvin G. Foord, Dr. Wayland Morrison, Dr. F. C. E. Mattison, Dr. Joseph Heitger, Dr. E. M. Hall, Dr. C. W. Bonynge, Dr. A. S. Hoyt, Dr. E. W. Butt, Dr. R. W. Lamson, Dr. A. H. Zeiler, Dr. R. W. Hammack, Dr. G. D. Maner, Dr. Ellis Jones, Mr, J. Brandon Bruner, Dr. Samuel J. Mattison, Dr. George Dock, Dr. O. O. Witherbee, Dr. B. O. Raulston, Dr. Linford Lee, Dr. W. H. Scions, Dr. W. V. Brem, Dr. George Kress, Richard Winter, Albert Ruddock, Dr. Allan B. Kanavel, Aubrey Davidson and Dr. R. B. Hill.
Dinner Photo, November 1931