Three original Rife Machines have been found. Find out how they really worked by reading:
The Rife Machine Report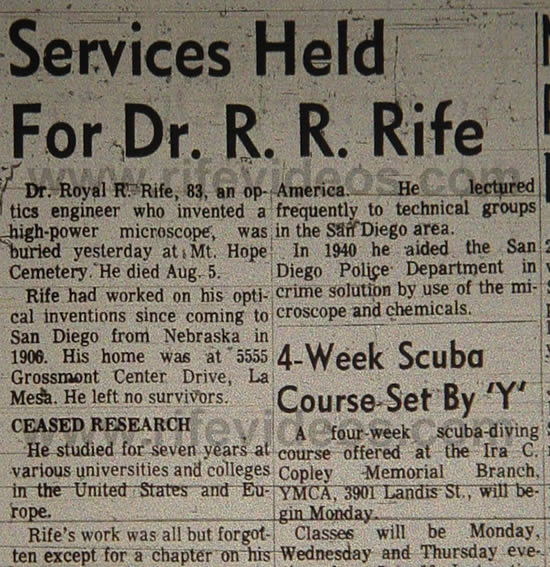 The San Diego Union
August 12, 1971
Services Held For Dr. R. R. Rife
Services Held For Dr. R. R. Rife

The San Diego Union
Thursday, August 12, 1971

Dr. Royal R. Rife, 83, an optics engineer who invented a high-powered microscope, was buried yesterday at Mt. Hope Cemetery. He died August 5.

Rife had worked on his optical inventions since coming to San Diego from Nebraska in 1906. His home was at 5555 Grossmont Center Drive, La Mesa. He left no survivors.

Ceased Research

He studied for seven years at various universities and colleges in the United States and Europe.
Rife's work was all but forgotten except for a chapter on his microscope which appeared in a Smithsonian Institution book on the subject.

The microscope magnifies about 60,000 times, allowing a scientist to define organisms in great detail.

Aids Police

John Crane, of 4246 Pepper St. E. San Diego, an associate of Rife's, said the scientist believed he had found a cure for cancer. His research ended in 1950, however, when no medical authorities would accept his theories. Once a wealthy man his funds for research began to run out and he became embitter, Crane said.

Rife was a member of the American Society for Metals and the Instrument Society of America. He lectured frequently to technical groups in the San Diego area.

In 1940 he aided the San Diego Police Department in crime solution by use of the microscope and chemicals.