Three original Rife Machines have been found. Find out how they really worked by reading:
The Rife Machine Report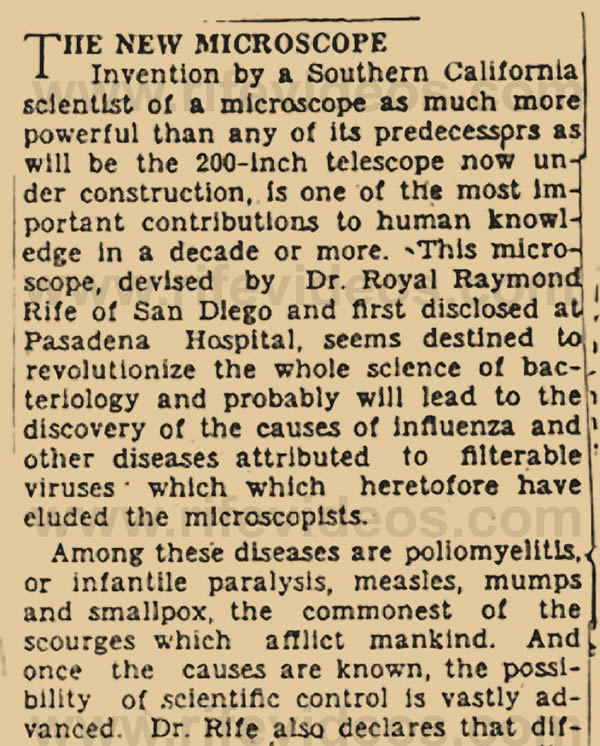 Los Angeles Times
November 11, 1931
The New Microscope

Los Angeles Times
November 11, 1931
Intervention by a Southern California scientist of a microscope as much more powerful than any of its predecessors as will be the 200-inch telescope now under construction, is one of the most important contributions to human knowledge in a decade or more. This [Rife] microscope, devised by Dr. Royal Raymond Rife of San Diego and first disclosed at Pasadena Hospital, seems destined to revolutionize the whole science of bacteriology and probably will lead to the discovery of the causes of influenza and other diseases attributed to filterable virus which heretofore have eluded the microscopists.

Among these diseases are poliomyelitis, or infantile paralysis, measles, mumps and smallpox, the commonest of the scourges which afflict mankind. And once the causes are known, the possibility of scientific control is vastly advanced. Dr. Rife also declares that different species of bacteria may be distinguished, with this microscope, by different colors they show under polarized light, and that many if not all bacteria may be studied without staining, by its use. Both of these are highly important developments which may lead to a method of speedy identification, long needed clinically and lacking in present methods. Several species of disease organisms are not to be told apart by form alone-the whole series of streptococci for example, look exactly alike under present microscopes, yet their actions are quite different.

From a practical standpoint, the new microscope is probably even more important than the 200-inch telescope. A microscope that will magnify 17,000 diameters is so remarkable an instrument as to rank almost with the Pioneer discoveries of Leeuwenhoek himself. Southern California should, indeed, be proud to have such an improvement produced here.