Three original Rife Machines have been found. Find out how they really worked by reading:
The Rife Machine Report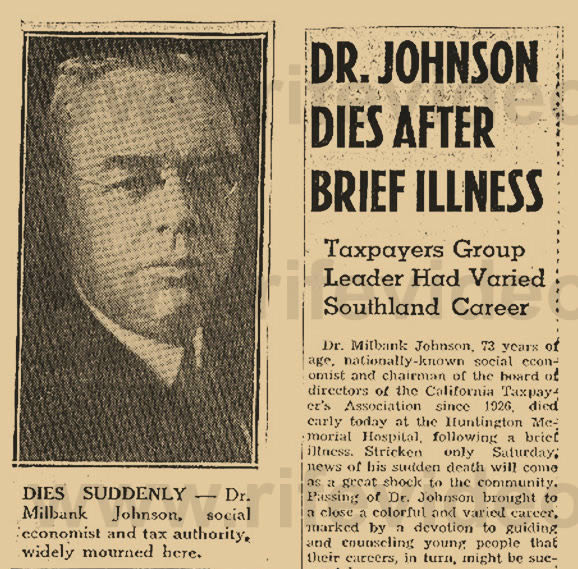 Star News
October 3, 1944
Dr Johson Dies After Brief Illness
Dr. Johnson Dies After Brief Illness

Star News
October 3, 1944
Dr. Milbank Johnson, 73 years of age, nationally-known social economist and chairman of the board of directors of the California taxpayers Association since 1926, died early today at the Huntington Memorial hospital, following a brief illness. Stricken only Saturday, news of his sudden death will come as a great shock to the community. Passing of Dr. Johnson brought to a close a colorful and varied career, marked by a devotion to guiding and counseling young people that their careers, in turn, might be successful.

Those who knew and admired him commented on the fact that Dr. Johnson always was "looking ahead and never was content to live in the past."

Born In Texas

Born in Columbus, Tex, in 1871, Dr. Johnson came to California many years ago, receiving his Bachelor of Science from the University of Southern California in 1890, his LL.D, from the same university in 1917. He also received an LL.D, from Northwestern University in 1920 and his M.D. from that institution. He studied at Johns Hopkins and in European hospitals.
Dr. Johnson practiced in Los Angeles from 1893 to 1901. He was professor of psychology and clinical medicine at U.S.C, from 1897-1901 and from 1901-13 was chief surgeon for the Southern California Edison company.

From 1913-36 Dr. Johnson was vice-president and director of the Pacific Mutual Life Insurance Company and since his retirement that year has devoted his interest to the California Taxpayers Association and civic activities.

Many Community Services

Dr. Johnson's community service dates back to 1900 when he was a member of the Los Angeles Board of Health until 1904. He served as president of the Municipal Charities Commission, 1913-17 and as a member of the Board of Freeholders which revised the Los Angeles City Charter in 1916.

During World War I, Dr. Johnson was a member of the executive committee of the California Military Welfare Committee, 1917-19, and from 1920-26 he served as president of the Southwest Museum. During 1925-26 he was president of the California Taxation Improvement Association. He also was president of the California Conference of Social Agencies, a member of the board of directors of the Pasadena Hospital Association and a member of the executive committee of the National Tax Association. He belonged to the American Medical Association, Southern California Medical Association and Los Angeles County Medical Association, and was one of the founders of the Automobile Club of Southern California. He also was a founder in 1890 of Phi Rho Sigma fraternity and was a member of Phi Gamma Delta.

A 32nd degree Mason, Dr. Johnson also was a Knight Templar and Shriner.

One of Dr. Johnson's greatest interests, because it enabled him to help young people, was the California Education Aid Foundation of which he was vice-chairman. Its purpose is to provide scholarships for adolescents to secondary schools for training in leadership. Though Dr. Johnson and due to his wise counseling many young people have received a helping hand to outstanding careers.

Surviving Dr. Johnson are his wife Mrs. Isabel Simeral Johnson and two daughters. Mrs. Louiez Webb and Mrs. Evelyn Bruner.

Funeral arrangements will be announced later.